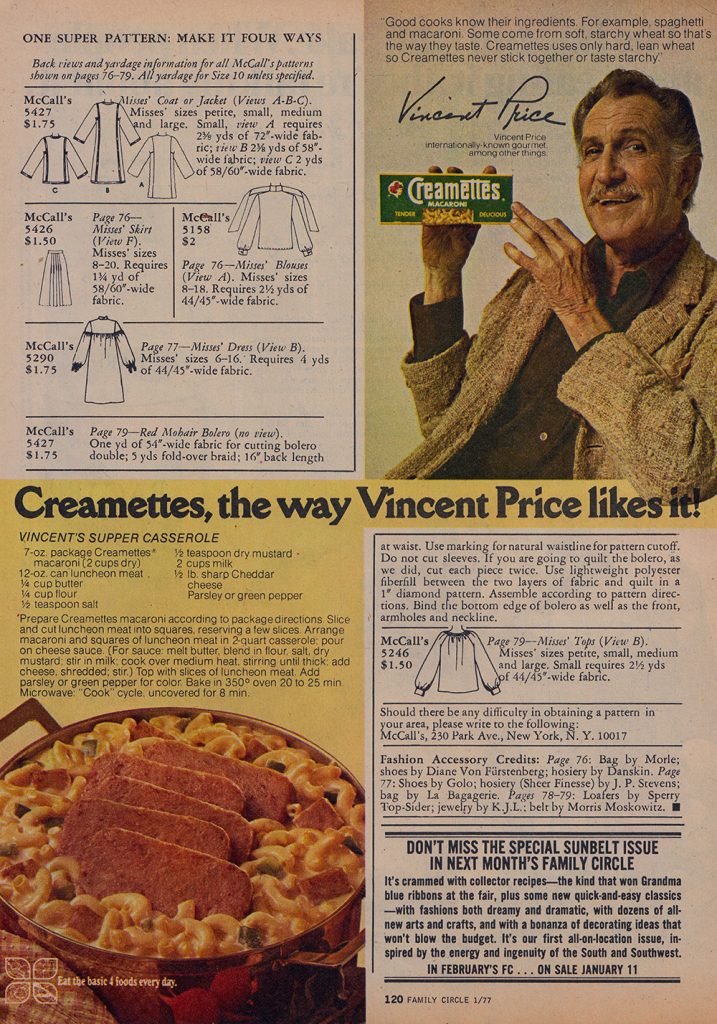 Back in 1977, Vincent Price shared this wonderfully weird recipe on behalf of Creamettes Macaroni. Price never shied away from paid endorsements, but since he was a noted gourmand with his own cookbooks, this one wasn't exactly out of left field.
Vincent's Supper Casserole
• 7-oz package Creamettes macaroni
• 12-oz can luncheon meat (Spam)
• ½ pound sharp Cheddar cheese, shredded
• Parsley or green pepper
Prepare Creamettes macaroni according to package directions. Slice and cut luncheon meat into squares, reserving a few slices. Arrange macaroni and squares in 2-quart casserole; pour on cheese sauce. (For sauce: melt butter, blend in flour, salt, dry mustard; stir in milk; cook over medium heat, stirring until thick; add cheese, shredded; stir.) Top with slices of luncheon meat. Add parsley or green pepper for color. Bake in 350º oven 20 to 25 min. Microwave: "Cook" cycle, uncovered for 8 min.
Shown above is the finished product. Guys, no matter what you think about those photos, Vincent Price's Supper Casserole is UNBELIEVABLY good. It shocked the hell out of me. It's basically jacked-up mac-and-cheese, mixed with Spam and then covered with more Spam. It tasted like yesteryear and I couldn't stop eating it.
I suppose I shouldn't have been surprised by its deliciousness, as it was, after all, a pile of pasta, meat, more meat, butter and cheese. I have no idea how Vincent stayed so trim.