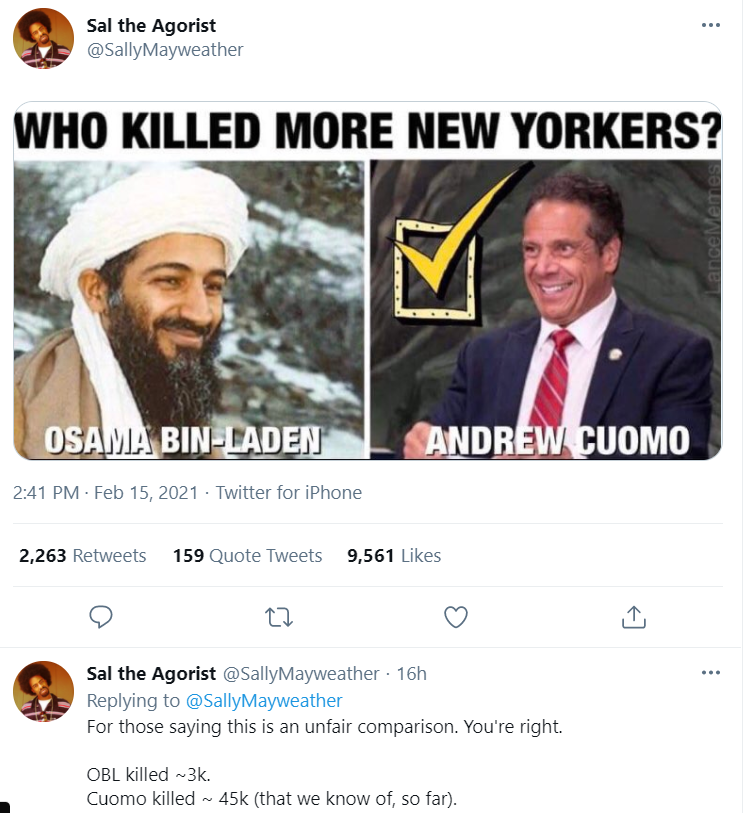 (…) But note, too, that the feds under Trump built emergency medical facilities to treat and contain infected people, and sent over a Navy hospital ship to NYC (and another one to California) to treat the infected.

And note too: None of those facilities saw a single patient.

Even if Cuomo wanted to do a favor for his for-profit hospital donors, why send these people back to infect others at the nursing homes, instead of sending them to a Navy hospital ship?

The answer is obvious, though so repulsive it's hard to believe:

Cuomo and other Democrats were determined to make it appear that Trump was virtually Causing covid, and did everything they could to avoid him being credited for any positive actions he took to stop covid.

They sent covid infected patients to infect the elderly and at-risk in nursing homes because they couldn't bear the thought of any TV news images of patients being treated in "Trump's Ship."

So instead: they chose mass murder.
Source: Even Democrats Are Now Slamming Serial Killer Andrew Cuomo for His Murders and Lies